Oh lordy! Only after a few months we returned to Disney in Florida! Last time we spent Halloween at the magic kingdom – this time we went during Valentines!! So different depending on the time of year you go. Ok we went because my husband's (weird to say hubby XD) brother wanted to get married at Disney. His new wife is a huge Disney fan as well so the location was perfect!!
In October we stayed at the Animal Kingdom Lodge in a great room but this time we stayed with my father-in-law in a 2 story suite at the Polynesian! Whoa what a difference. We will never be able to stay in such a sweet room so I did a few videos on the room. We also had personal spread every morning for breakfest, a snack spread, dinner spread and lastly a treat spread with sweets with wine. Sigh – I gained about a billion pounds from this trip lol.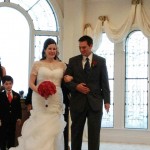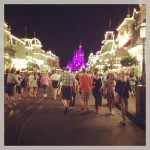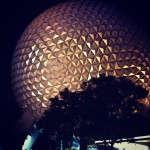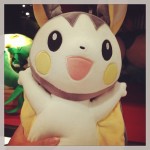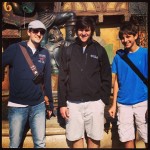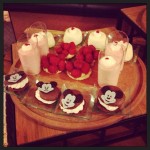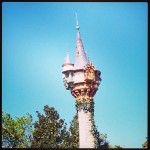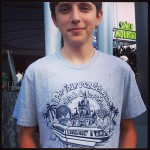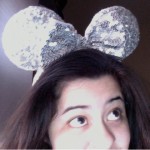 1. Shawn and Stephanie walking down as man & wife! 2. Main Street at night with Cinderella's Castle 3. Epcot is so cool at night 4. Emolga plushie at Japan in Epcot, they had a huge pokemon section but no Victini stuff ;o; 5. Hubby with his nephew and the one in blue is hubby's lil bro 6. Treats at our hotel – every night a different set of sweets! 7. Tangle tower, they are adding Rapunzel's section to the new Fantasy-land 8. My lil bro-in-law showing that he likes spanish 9. My dude bought me new ears!
First morning waking up we had Lilo and Stitch come by and conga with all the kids – so cute. I love Stitch, he is also a good dancer, here he is dancing to the cupid shuffle. Right before our trip Vine came out for iphones – have you guys seen this app yet? I am obsessed and going on a trip was perfect excuse to use it. If you have it look me up at MIJAVERA. So click on the links through out the post for short videos.
Back to the wedding part. They had a ceremony with a judge, the alter has a huge window that shows the magic kingdom behind them, so dreamy!! Right after we had a limo take us to the Floridian for cake and champagne. That night we had fruit and sweets at Epcot with a front row view of the firework show: Reflections. All in all a great weekend and very romantic how Disney put a wedding together.
I already miss walking down Main Street U.S.A! I hope to return one day when they finish with the Tangled tower.