Randomly the my excoworker from the last post got me this hat when she went to Disney Land a few weeks ago. I always ask people who go to Disney World/Land to bring me a hat back and no one does. But she did ;o; I know my last post had a lot of anger but I am going to miss her.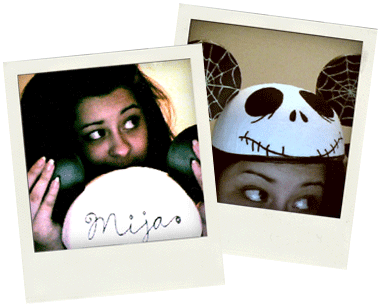 I love this Polaroid Maker thingy. And I love this season, weather gets colder, halloween movies start to air, costumes, candy and cheesy monster mash music at the grocery store. Love it. Last night I stayed up so late watching scary movie after scary movie! One that I never watched and really liked was The Amityville Horror (remake version). One remake I actually liked more than the original. I love having FEARnet on demand XD. Hard to imagine that I have had this blog a little more than a year. Its definitely time for a new layout on here.
Speaking of layouts, Kii and I made a new lj community for layout challenges. Our first challenge is a Halloween Challenge.So join if you like making layouts!
Also Onicon is coming up – I feel kinda nervous for no real reason ><;