Megan from A Geeky Gal nominated me for the Sunshine Blogger Award! I keep meaning to do more memes on here! Sorry this was done soooo late but TA-DA!!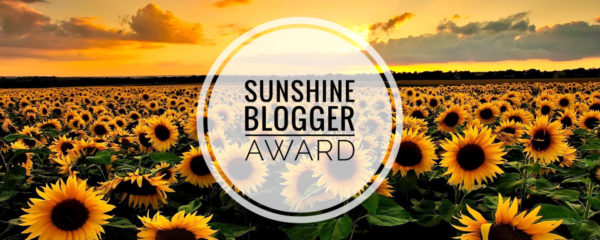 Sunshine Blogger Award Preview:
The Sunshine Blogger award is a peer recognition for bloggers that inspire positivity, joy, warmth and any other emotions that you feel when you think about the sun.
The Rules:
Thank the blogger who nominated you and link back to their blog.
Answer the 11 questions the blogger asked you.
Nominate 11 new blogs to receive the award and write them 11 new questions. Link your blog so I can see!!!
List the rules and display the Sunshine Blogger Award logo in your post and/or on your blog.
Questions:
What was your first fandom? (Or what was the first thing you obsessed over?)
As a young kid, I was super into Disney Barbie Dolls. Also, in 3rd grade I got to watch a marathon of dubbed Sailor Moon episodes hosted by an actress dressed as Sailor Moon. That really made me obsessed with the show!!
Who is your favorite fictional character?
Luna Lovegood from Harry Potter!
What is something you love about your favorite fandom?
I have tons of fandoms! Comics, pokemon, visual kei, Sailor Moon, Star Wars, Broadway Musicals…..the list goes on! One thing they all have in common is that I love meeting people with similar interests. In short – other fellow fans!
What is something you hate about your favorite fandom?
Sometimes….the negative fans. Especially fellow Star Wars fans.
Are you a fan of something that doesn't seem to be that popular?
Oh, I don't know…Visual Kei (jrock) music has died down alot in the West. It used to be Monster Hunter but now many people are fans thanks to Monster Hunter World!
What do you watch/read/play the most?
I play Monster Hunter all the time!!! I still play lots of Animal Crossing. I read Spider Gwen comics often!!
What fictional place/house would you love to live in?
Does the Magic Kingdom count?!
Where would you take a fictional dream vacation?
Japan! I would also love to go to Universal in Japan just to enjoy all the Monster Hunter stuff!
What character has a wardrobe you'd love to have?
Maybe Hedwig from Hedwig and the Angry Inch.
What Hogwarts house does you pet belong in?
LOL, Tomo is totally loyal. Probably Hufflepuff.
Tell me about your favorite day in your life so far.
My wedding was an amazing day BUT the birth of our daughter has topped that!
Nominations

Ashley @ Singing Away | Kim @ Inside Kimmy's Mind | Nancy @ Exquisitely Me | Cat @ Silent White | Xian @ Kimi Hana | Richelle @ Smells like Sushi | Tara @ Aigoo | Nina @ Little Wolf | Georgie @ Hey Georgie | Roselyn @ Technowish | Megan @ Entrial Tales
Questions
1. What is your dream job?
2. What is 1 item you still own from your childhood?
3. What is your favorite weather like?
4. What is one thing would you change about your current town?
5. List your favorite show to rewatch over and over!
6. Can you recommend a youtube channel you love to watch?
7. Have you ever gotten your cards read before? (Tarot)
8. What is your favorite thing about yourself?
9. What is your hidden talent?
10. Favorite vacation spot?
11. Have you ever flown in first class before?
Let me know if you answer these questions!!!