Japan released the precious Easter Eevee and Pikachu plushes. I panicked looking for a shopping service to grab one for my kid. She loves her giant Eevee from build a bear and she has a 6 inch TOMY ToysRus edition as well. So I thought this would be a different and cute version for her to have.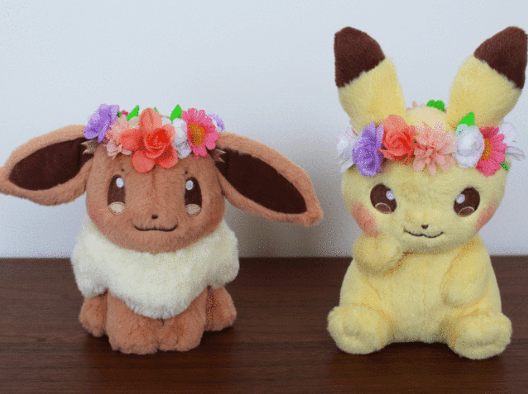 I found a how-to guide from Nintendo Soup on how to order from Amazon JP from the official Pokemon Center. I ordered the Easter Eevee and in came in yesterday morning! The item costed ¥1,600 plus some shipping. Now if you try to find the item, people are charging up to ¥3,600 or more.
First off, using Amazon Japan was easy, Pokemon Center account shipped worldwide and use DHL express so only took a few days to arrive with up to the minute shipping info.
They packaged it well, and the actual product was really cute. It is made really well compared to the other Eevee plushies Vera has. The color is a light, pastel brown and the detail work is really nice. The plush is a bit smaller than I thought sitting smaller than the 6 inch TOMY ones but he is pretty sticky which is nice!
I handed it right to Vera or Poogie as we call her and she squealed. She doesn't really talk just yet but does baby babble and exclaim alot. She hugged her new Eevee and yelled "EEVEE, SIT!"
Threw me off but it was so adorable!! I wish I took a video of the moment.