I have tonsillitis – whoot! Never had it before so this was a surprise since last weekend I had a cold. I was really hoping not to miss anymore work but my office is so nice and sent me home to get rest. I went to the clinic and was prescribed some antibiotics and some cough syrup. After dozing in and out of sleep I am finally feeling better but still have no voice. I keep getting phone calls on my cell and I can't talk!!! I have never been mute before – I can whisper a little but it is really painful. My mom called and kept repeating "I can't hear you Mija" ….. -_-;;
Doctor gave me medical masks to wear around my husband and my sister Kim. Since I am contagious, my dude had to sleep downstairs the last two nights. Weird sleeping in a big bed alone. I am almost done with my pills so I should be ok to go back to work soon!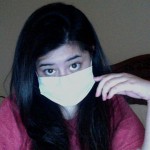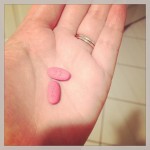 Since I had these two days off from work, I helped my friend Ginger get her blog started on my domain. She is my first (non-sister) hostee so I helped her get set up and helped designed a layout for her. Check her new blog out here! Very excited to have her on Honey-Vanity! She is amazing and cool <3 Another thing, one of my longest friends is getting married this summer! Yui, who came to my wedding last year. I've known her since 2005, she is one of my first true friends I met online and I am super honored to be seeing her marry her soulmate!!