Tomo will be turning 2 next week! His birthday is a day before Tomozo (owner of Sequence Records label). Weirdly his birthday is March 15th and my cat Tomo's is March 14th. Totally never thought about it until now… Anyway here he is. Huge right?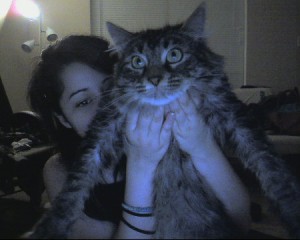 Anyway, watched Watchmen this weekend with those chicks…who kinda look like me but don't really. LOL but yes despite all the swinging blue wang and abundance of booty…it was great! I loved it and I want to see it again! Seriously not your typical "super hero" story. Alot of people left the theater because violence and wang. But come on….who takes kids to a rated R movie??? I also watched Taken. It wasn't as cheesy as I thought it would be. Actually I liked it!
Next weekend, Kim and Kat will stay with me for their spring break. Ah, I miss the idea of having a spring break ;—; AND omg this is how it works??? Omg no no no thats scary!!! I miss Conan ;-;
Oh I need to redo MM soon! I have an idea for the design but I just don't know yet….