Just occurred to me that this is the first non-jrock-y layout on this blog. I still like my old school disbanded bands but I haven't kept up or cared enough to listen to anything new. OK but onto the real post!
My husband has his birthday last week so Kim and I took him out for some Japanese food. Actually, my dude saw a picture of some scallops a while back and asked the waitress if he could have the scallops with lemon slices in an elegant fashion. At first the waitress seemed confused but since it was his birthday she said they would make him a birthday scallop plate!
Oh so spoiled XD;;; They bought out his plate and it looked like a pretty flower! So cool!!! Afterwards we wanted to go see Jurassic Park in 3D but we were soooo full! Seemed pointless to show him the cake I bought but we did have some with ice cream. There is always room for sweets :9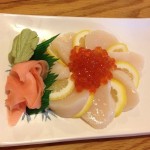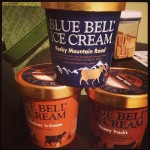 The next day we went to my parents' house for more birthday fun. Dad grilled steaks, Kat gave him Bioshock Infinite, mom gave him an Academy gift card. I gave him a Nintendo eshop gift card so he can finally download Dr. Mario onto his 3DS!! Kim also made him a grocery bag holder for our kitchen, she used Star Wars fabric so he loved it!! Kat even made him another cake, this time it was a pound cake with powdered sugar and strawberries on top!
We ended the weekend with lots of multiplayer Luigi's Mansion. One thing that is awesome having gamer sisters, that you always have friends to co-op with!!!
THIS weekend, is the Houston Japanese Festival but on Thursday I caught a cold so the past few days I have been in bed and just a gross mess. I haven't been sick since my wedding. Did I even mention that I was home sick a few days before the wedding??? I am surprised I didn't look like a zombie in my wedding pics!! I hope I feel better so I can go to the festival. The festival is always alot of fun ;o;