It has been a few months since I did a real time post here. Well a few things have changed since I last really posted about my life. For the last 3 months we were house shopping! We fell in love with a home but someone put a HUGE offer over ours. So we continued our search and found nothing as big and beautiful as the home of our dreams. Until months later we received a call from our realtor saying the other buyers backed out and the seller took our back up offer!
So during Labor Day Weekend – we moved to our new home! Hardest thing about moving is dealing with our cats. They were so whiny when we slowly were packing up through out the month – they didn't understand what was going on, they just knew SOMETHING was happening.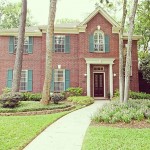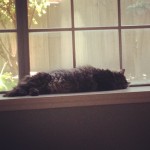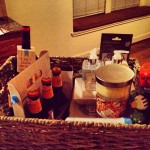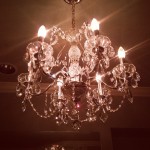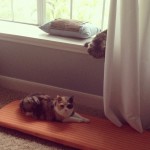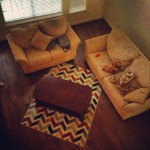 1. Our new home! 2. Tomo already claiming the window in the bedroom 3. Welcome Home Basket from our realtor 4. Chandelier in our master bath 5. Cats enjoying a raining day 6. New rug in the living room
We adore our new home…nothing like going into your own space after a long day at the office! I never thought about having a certain type of "style" but hopefully we can make the inside modern even though the outside is pretty traditional.