I haven't really talked about my honeymoon, DISNEY WORLD! I have never ever been to Disney World or Land…we arrived in Orlando and the Mickey Magical Express greeted us and took us to our "home" for the week! We stayed at the lovely Animal Kingdom Lodge which was amazing – we had wild animals right outside our balcony!! We arrived around 8pm so we were hungry and beat. Right when you arrive to the hotel they give you your keys to Disney. They also ask you if there is a special occasion for the visit. Hell yes: Marriage and this is my first visit! And bamm they slap you with buttons!! Oh these buttons – if you wear these the staff are super friendly. Which brings me to the next bit. Our first morning at Disney.
I couldn't sleep that night, I woke up at 4am. Showered, got ready and by 6am I was trying to make noise just so my husband could wake up. I was like a kid: excited, hyper and for some reason nervous!! I noticed we had a voice mail on the room phone from some special people! By 7am we were on our way. We waited for our bus to take us to the Magic Kingdom. As we were waiting there was a gentleman in a suit (manager of the hotel) – he greeted us with a "congrats" and also saw I had "first visit" button. I asked for suggestions on what to visit first at the Magic Kingdom and he proceeded to ask if we had tickets to the Not So Scary Halloween Party. Jody wanted to get them but they were pricey and we really couldn't afford it. So he thought for a moment and took us back inside the hotel. He gave us free tickets to the event! "Disney's wedding gift to the new couple!" – I immediately started crying and hugged him. He started to tear up and said that he wasn't expecting such an emotional response. But seriously, as a little girl I wished and hoped to come here and had a lot of expectations about the park and even before we left the hotel we already felt the magic!
On our way to the Magic Kingdom – I based all my Magic Kingdom knowledge on an old vhs called Sing Along Songs – Disneyland Fun from 1989. The quote from me during this week was "JODY – just like my vhs!!!" Even when my sisters called I would tell them "Just like our VHS!!!!!" Oh yes we wore the Bride and Groom Mickey Ears Hats!!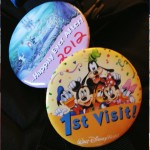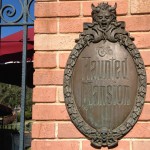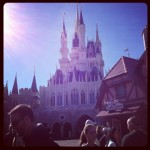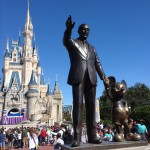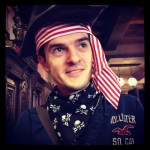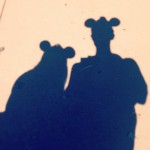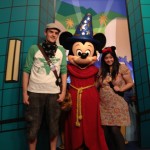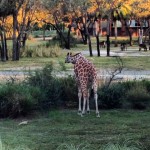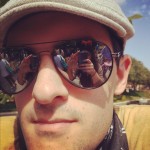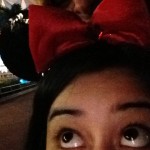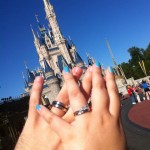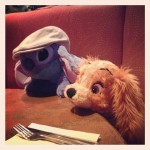 I won't go into every detail but in short – I cried….alot. I cried when I saw the castle up close, I cried when I walked on Main Street and when I took a picture by Walt Disney's stature. I also stalked all the princesses I could to take a picture with them!! The Halloween event was breath taking!! Its after hours at the park – massive dance with the villains, trick or treat with characters, amazing parade with characters in costume and soooooo much candy! At the last day of our trip, Jody surprised me with a Lady (from Lady and the Tramp) plushie/pillow!! He got himself a Stitch one! What dude can go around parading with a Stitch plush? I am in love ;o;!!!
Okay so our honey moon was during Halloween and now we are going again this weekend! Why so soon? Jody's oldest brother is getting married there! So we had so use some wedding money this time to go – but we are very excited! I really had no idea that after 27 years of never going to Disney that I would be going twice in such a short time! We have reservations at the Be Our Guest restaurant so we are excited!
I leave you with Stitch doing Gangnam Style. More random videos here.