I told you guys I was going to show you my Save the Dates! I just posted the invites over on Mind-Speaks.com, for those who don't know – Mind Speaks is a collab blog with my sisters. We three post monthly on different projects.
So May was my month and I decided to show my save the dates – my Canon Rebel XT (EOS 350D) just turned 10 years old and died right after taking our engagement pictures! Weird, I have had that camera since I was 17! It lasted so many years and was really my favorite item I owned. I am torn if I should repair it or buy a new one? So these pictures of the Save the Date were taken by my iphone ;o; I think I have to wait until wedding payments are over and I will get a new camera. ANYWAY – here are my save the dates. Hope you like them!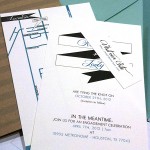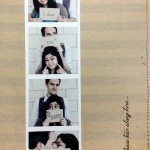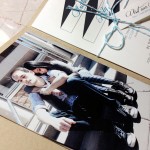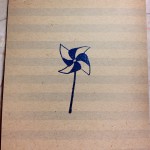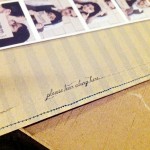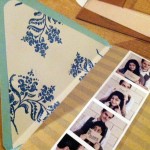 Outer paper was made out of Paper Bag, inside is printed on Soft White Cover and tied together with bakers twine. I also perforated the outer paper so guests could have fun opening the invite! My sister Kim sewed each one with teal thread!!! Amazing sister! My fiance and sisters helped me construct all 80 invites! So thanks to them for the hard work!!
Now, here is a preview of the wedding invitation I am working on. It is in the preliminary stages so it might change through out this week.