So as I am waiting on a job – I have taken shit loads of freelance!! Almost overwhelming amounts but since working at home – I have been able to finish them quickly! I also applied to be a designer over at Paper Source. I would work on the floor as well and on weekends conduct weekend craft classes. My interview is this Saturday. Working at that shop would probably be the best bet.
I've worked in a stuffy office for five years – to be able to teach and design more packages and hands on projects would just paint me peachy!!! WTF does that even mean?!?!?! Not sure but I really get this giddy feeling when I walk into that place.
I forgot to show this to you guys, back at the beginning of this year I started to work more with Green Card.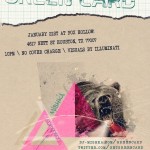 ALSO – I uploaded my personal portfolio and starting up a new project with my dude. More about that later!!! ANNNNNNNNNND started to add more shiny stuff to Mija's Malice.