If you follow my twitter you know more about what random-ness goes on during the day. Things like coworkers leaving odd melons on my desk, boss annoying me or random songs stuck in my head. Last week was our Christmas lunch and gift exchange!!
I was supposed to buy Felix something but seriously…what do you buy a rich Russian broker? He loooooves that toxic show: Jersey Shore. So I bought him this and electronic music and he we saw deadmau5 a few times in the last 2 years so I bought him the new deadmau5 cd. His room mate and best friend (also from Russia) is one of my clients so it was easy to make sure he didn't have these items!
I tried to play house wife and baked stuff for my boyfriend's office party. Took me forever to get it done but I was finally able to make something fairly easy. Dipped pretzel sticks with chocolate and marshmallow delights.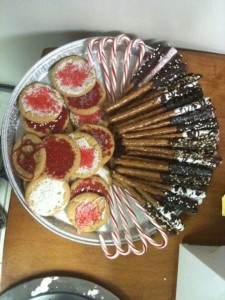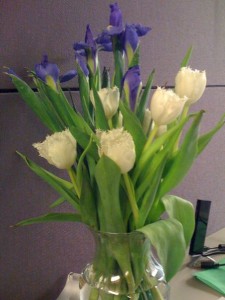 I also celebrated my first year anniversary with him. So strange how time flies. This time last year you can tell I was preoccupied with something since I kinda vanished last December. The best thing that has ever happened to me was meeting him. I can honestly say I can't imagine being with anyone else. On Thursday he sent me flowers at my office, before him I don't think I would have cared to get cut, dead flowers in a vase but…I dunno I get dorky and girly around him. We've been talking about marriage and had sit downs with both of our families… its starting to get surreal.