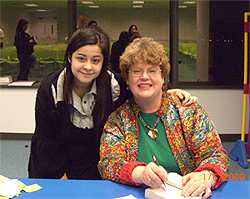 Last week Kim was supposed to stay with me but she had school and other crap to deal with – the reason why Kim really wanted to stay with me (besides that I am cool and she loves me *dies*) – is that we were going to meet Charlaine Harris the author of the True Blood series. Since Kim was having a troublesome week I went to meet with author by myself to get Kim's book autographed. The event had over 300 fans and was packed! People asked about the books, show and the story line for the next book. I had no idea what a strong following this author had. The signing session was so stressful and annoying but I met 2 new friends in the process. Anyway I didn't get Kim's book signed until like 10pm. I was so wiped when I finally got home. One of the girls from the signing took my picture and emailed it to me. I always look crappy and tired in pictures :/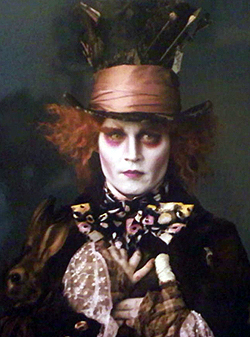 I started new freelance so that usually means I won't be online as much but this job shouldn't take too long to finish. I am going to buy Boogieman's release with the money I earn. Damnit I keep going to their site just to listen and see the pv sample over and over! So fucking catchy! OH you know what else I have been excited for? REPO! coming on dvd soon AND new Tim Burton! His movie 9 is coming out soon – well he is producing the film. AND new pic has been posted for his Alice in Wonderland film! Look how amazing Johnny Depp looks! I am officially excited for this film! I love Depp and Burton movies. They are always perfect!
Oh, our korean brother came back for a visit! Hyun looks so different! Even though our meeting was short it was good to see him. Even if he is still a lil' shit haha. Today was mom's bday or rather yesterday since its Sunday now :/ so yay happy bday mom!
Ah I feel so stupid and pissy with this wifi crap. I am trying to get my parents' wifi up and running for the last few weeks and finally after buying a different router, it seems to be working both up and down stairs and in the garage. But it does kick me off often :/ so thats a bother and now its 3am.

OH and I installed a subscription plugin so feel free to sign up for email alerts and pokes when I update etc!