Happy New Year! Did you guys get trashed? Okay December was pretty cool. Well, okay thats a small lie because work was really stressful, but Oni-con made up for all the stress, I got the 19th off so I could run errands and get ready for the DIO and Sugar lives. But after I signed into the hotel I had to stopped by the office to print off some stuff and check on my coworkers/boss. I went back to my place picked up my sisters and headed to the hotel – I found out that Sugar was already playing so we ran down there and caught their last 4 songs ;—; BUT they were amazing, and really sexy! Loki's hair was crazy though, all shaved on the side and tossed to the other side. Not too many people where there for Sugar – even people who were curious and walked in would walk out after awhile, I shouldn't complain since the lack of people allowed us to get closer to the stage but I wanted the crowd to be huge and badass for the bands. Yet Sugar had so much energy and Loki sounded just like the cd if not better. His voice is amazing live. After they finished we were instructed to chant DIO DIO DIO which we did! One by one DIO boys came out but had some tech problems. A few songs into the live, Ivy had to switch mics or something so Mikaru had to make small talk with us which was random and cute. They ended the live but we were shouting encore encore. All of the sudden Erina flew into the fans – he stage dived into us and people were all over him. After awhile they pulled him up and then Mikaru (shirtless) jumped into the audience. The lives were great. On the last day of Oni-con Loki went missing which was random but kinda funny. We caught 2 picks – one from Sizna and one from Erina. I got to see some friends and meet ST-ders which was great! Here is a pic of my sisters and I on that Saturday.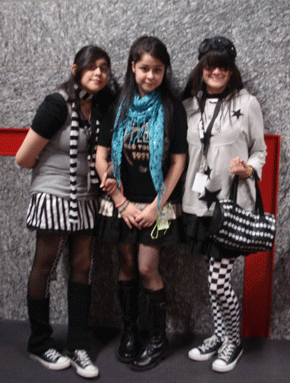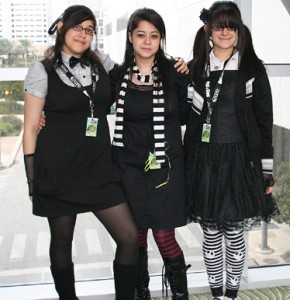 This is us on the last day.
Xmas came and went which you guys already know what I got since I posted about it already here. Fast forward to this week. Kathy came and stayed about 3 days with me. My boss gave me Wednesday off so I took Kat to some old cool book stores. One we went to was pretty big – about 4 floors big! We recorded some footage which I'll piece together and post on here next time. I also took Kat to Andres. Its a little cafe with French cakes. We picked a River Oaks and a Chateaubriand. Next week I get Kim for a whole week. ;-;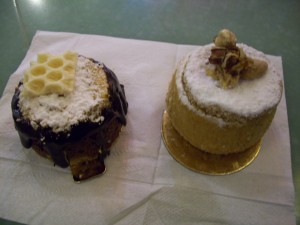 Hope 2009 will be has fun as 2008. I hope Shattered Tranquility will grow in this New Year!