Pregnancy was an adventure, an emotional roller coaster with lots of cravings for chocolate milkshakes. For almost 10 months, my body slowly started to change and grow. By 6 months I finally had a cute belly bump and the last trimester felt so short, within one day I went from a prego chick into a new mama. No one tells you how weird recovery is, or how awkward breast feeding can be…OR how everyone in your delivery room will see you naked!!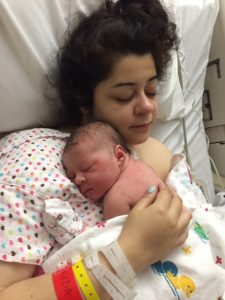 Labor didn't take long, in under an hour I had my very own squishy purple baby plopped onto my chest. I was so lucky my delivery nurse and husband were so supportive and coached me the whole way. Thanks to epidural I didn't feel anything during the labor. The aftermath, the recovery was another story. Wowza!!! I won't go into details but this whole new life event has made me appreciate my mom more.
We named her Vera, my maiden name. Dad only had 3 daughters and no sons to continue our last name. Our family name always meant alot to me, since I got married and changed to my husband's name I did feel a little identity crisis, this really seemed perfect to name her Vera.
Here is my last prego picture at 40 weeks. My mom made Vera a baby wreath with her nursery theme: Totoro!

I'm learning how to take care of this little strange human. My husband is back at work and my mom should be coming back this weekend, leaving me alone with the baby during the day. She sleeps for only a few hours at a time and then wakes up for food. She sleeps more during the day – she is a little vampire and is more active at night. My poor husband is lacking sleep! But she is funny, she giggles alot and gives this cute gummy smile when she is boobie milk drunk.
She is changing and growing so fast! Almost at 3 weeks old and I notice new things about her daily!! I finally got a chance to update on here…she is now crying. Time for a diaper change!