Have you guys ever exchanged letters with a pen pal? My sister's post about writing to a friend made me want to look for a new pen pal. I had a scrap book pen pal a few years ago and we became moms around the same time. We now keep up via social media so not much letter exchanging.
A few years ago I started a visual kei/jrock blog pal group on a websites I used to run. We had about 300 people signed up and I would have to figure out how to set people up by favorite groups and age. It was alot of work! I thought about starting something similar to that up again but with something more boarder like geek fandoms.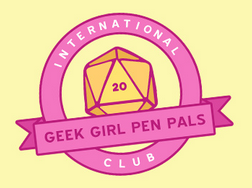 I went searching online and found a group like this already existed, and they had been around for awhile.
The site is called International Geek Girl Pen Pals Club or IGGPPC for short. I just signed up, and was recently paired with another girl. I'm also involved in a card swap with some fellow geeks!  I'm pretty excited to see how this goes, I might not always be able to write other ladies as often as I like but sending out happy mail will be awesome. I have also been working on making my own stationary. We'll see how this goes! Do you guys send snail mail?
Edit: here are my first letters I sent off! I also included sailor scout charms!!!